Do you love to add sprinkles of love around your home to surprise your loved ones? We sure do. Not just for Valentines Day but all year round. These Stamped Farmhouse Valentines Wooden Block Signs are a super quick project you can make in one afternoon.
Stamped Farmhouse Valentines Wooden Block Signs
---
I'm so excited to be apart of the DIY Blog hop, for the first time and it's packed full of fun Valentines projects and decorating ideas that you can follow along and make to. Be sure to check out the projects below.
Supplies needed:
For all my friends outside Australia, you can find all your Dixie Belle Supplies —-> HERE
3 x scrap wood. Measure accordingly to the size that fits the words you want to use
120 grit sandpaper
glue gun
coordinating ribbon
button
Step 1 – Work out what words you would like on your blocks. For these 3 I chose "love", "cherish" and "be mine". Lay them out onto your blocks and move letters accordingly to make sure they fit nicely on the wood.
Step 2 – Using your brush paint 2 of the blocks in Cotton and 1 in Soft Pink. Let dry and give another coat.
---
Shop Raggedy Bits For All Your DIY Projects & Home Decor

---
Step 3 – Line up your letters on your signs, stamp facing down. To fit all the stamps on, I placed the lower case from the Typesetting Stamp at all different heights.
HANDY HINT: If this is the first time using your IOD Stamp use 120 grit sandpaper to go over your stamp to open the pores up of the stamp to get a nice crisp image.
Stamping Time
Step 4 – To help to line your word back onto your sign use the grid thin mount to pick up your stamps. Be sure to leave a space for any letters you need to double up with. Press firmly to make sure you pick them all up. 
Load your brayer up with ink and apply to your word. Line up your grid thin mount and using one hand hold your word in place on your sign and press over the word with your fingers. Repeat until all your words are stamped onto your signs.

HANDY HINT: Don't press super hard on the stamp otherwise you will create a blurred image. If it is your first time using stamps practice on a scrap piece of wood until you get used to stamping.
Step 5 –  Fill in all the gaps with the extra letters. Let completely dry and wax to seal using your wax brush.
Step 6 –  Make a messy bow using your ribbon. Cut 2 of each colour and then layer them on top of each other. Tie them all together in the centre.
Almost finished
Step 7 – Using your glue gun glue your messy bow onto your pink sign. And now its time to decorate.
Be sure to check out below all the other fun Valentines projects from my blogging pals.
Don't have time to make them? We've got you covered! You can find them over in my shop >>HERE<<
Happy Painting!
My dear friend Leanna has made a super cute Valentines Heating Pad and it also comes with a super sweet printable Valentines Card for you to make too.
How adorable is this gorgeous neutral heart? It sure is perfect to leave up all year round.
Love Boho in your home? You're going to love this decorating inspiration to using things you may already have around your home.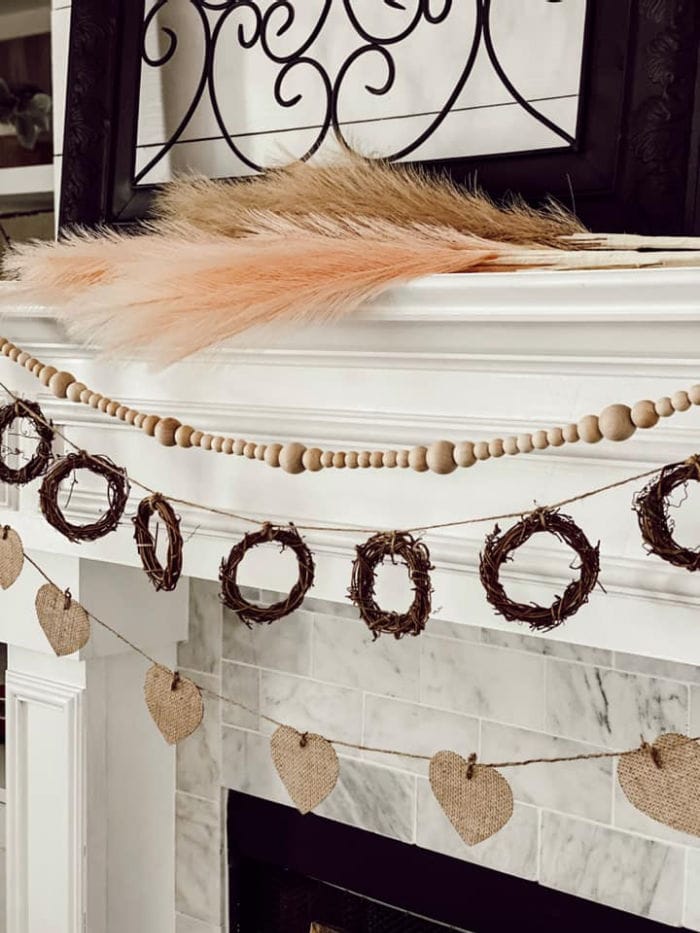 Even adding a few of your favourite pieces of beautiful china can make the perfect Valentines touch to your sideboard or corner cabinet.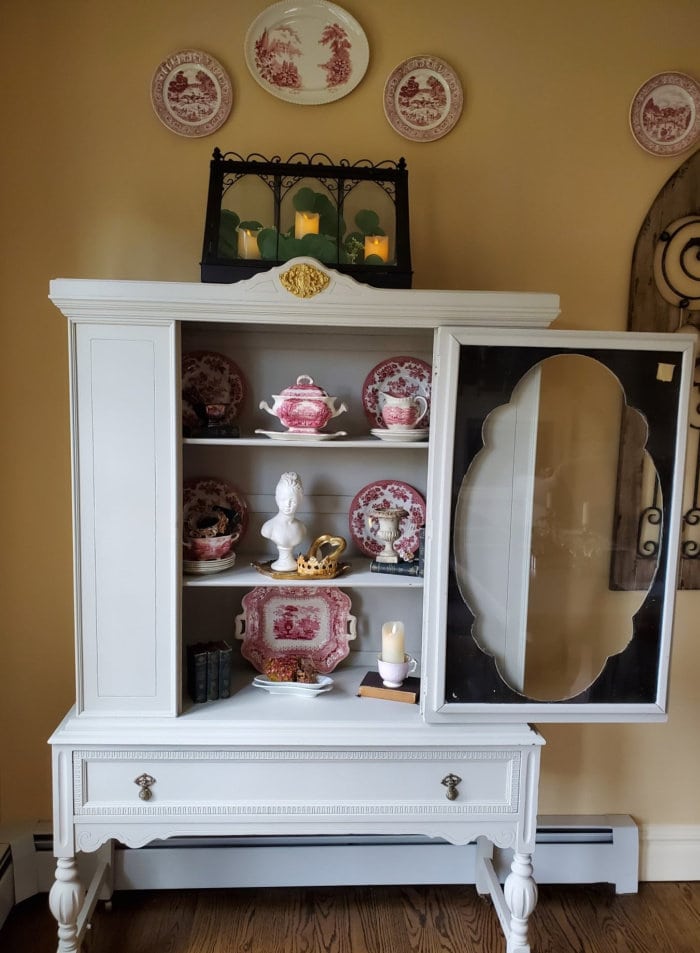 Fresh flowers especially tulips are a beautiful way to add Valentines touches to your home.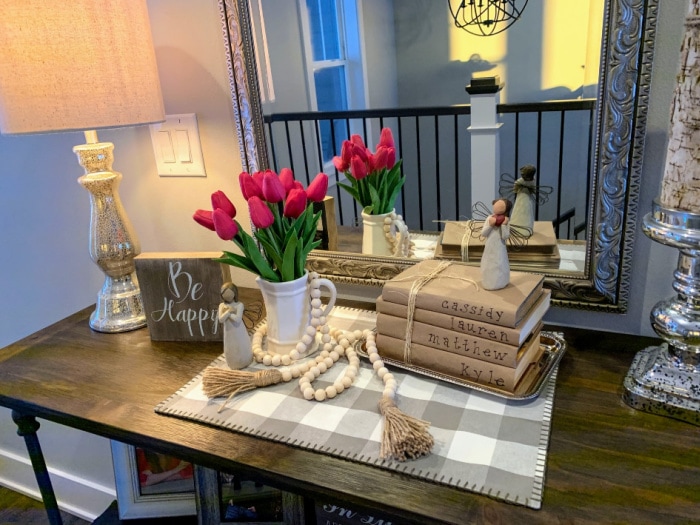 Making fun craft projects sure doesn't have to be expensive. Chas is sharing a cute project that you can make also using Dollar (or in Australia $2 Shop) store items!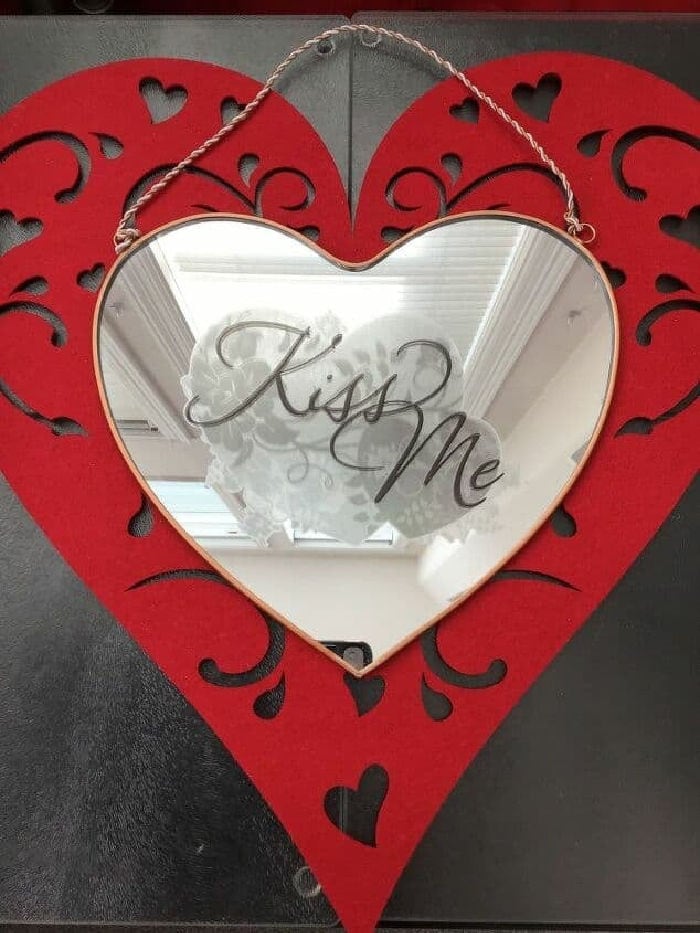 I don't know about you but I LOVE decorating the table on special occasions and this Valentine's Table for Two tablescape is just gorgeous!
How very sweet is this gorgeous paper heart Valentines Tree? The perfect way to sprinkle some love this Valentine's Day.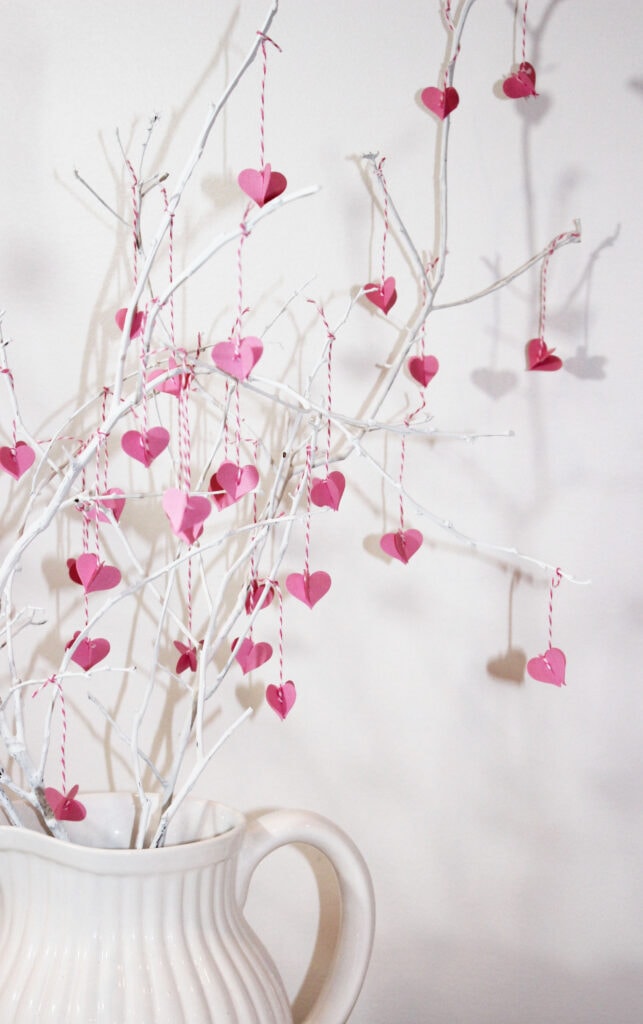 You are going to love this tutorial on how to make these adorable yarn hearts and turn them into a sweet garland to decorate with this Valentine's Day.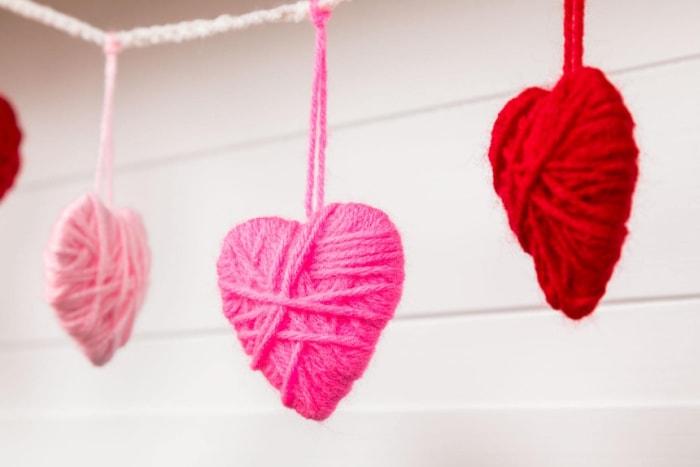 Pom Poms are such a fun supply to create with and this sweet Pom Pom Wreath is sure to adorn your wall this Valentine's Day!
How clever is this Valentines Sign using puzzle pieces? Would make a beautiful gift too.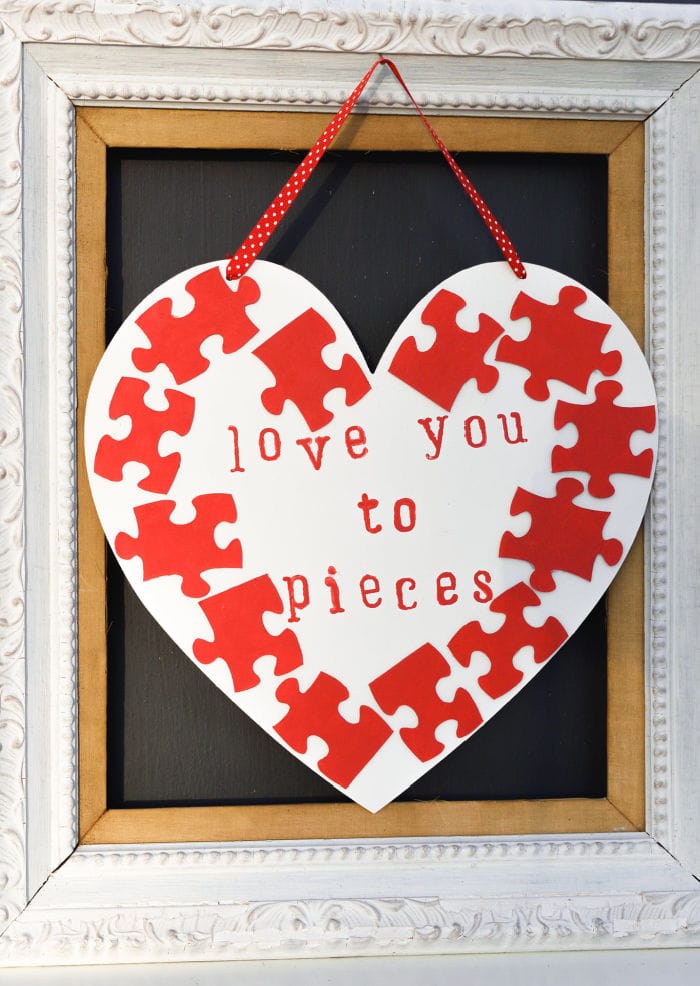 Looking for some more fun Valentines Projects? Take a peek at these!